Public and private sector credit growth and contribution in the GCC – Focusing on Qatar, KSA, UAE and Oman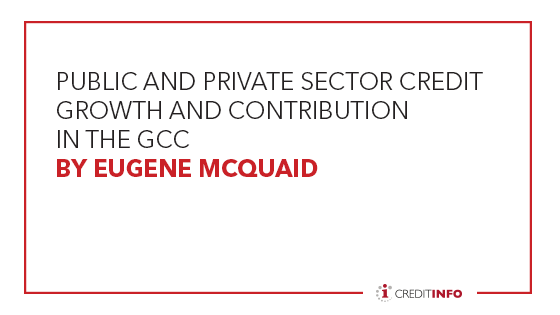 Eugene McQuaid is Senior Economist for Saudi Arabia Government Investment Authority (IDI) and on Thursday 17th December 2015, he will be hosting a webinar for Creditinfo. To access it, go to the Webex meeting room. Learn more by following this link.
Eugene C. McQuaid is a senior macroeconomist currently engaged with the Saudi Arabian Government and IDI with responsibility for strategic investment planning, public fiscal and financial management, public debt management, private sector development, and economic diversification. Eugene is also a PFM Advisor and economist with the Fiscal Affairs Department at the International Monetary Fund (METAC) and is widely recognized in the GCC as a pedigree source of technical and analytical intellect for strategic national development and public financial and fiscal management reform initiatives. This experience extends to macroeconomic and the economic diversification development initiatives as the GCC region transforms from the hydrocarbon, oil and LNG sector influence, to private sector development and SME. Eugene is the co-founder of Economic Impact and Energy Advisory LLC (EIEA) a Qatar/UAE/Irish-based advisory firm, which focuses on services and products tailored to public financial management, fiscal and budgetary reform, PEFA and PFMA assessment and reporting, public investment planning, private sector development & economic diversification, infrastructure development and natural resource management. Eugene has 23 years international experience engaged as a macroeconomist and advisor to CEOs, Ministers, heads' of Government and has counseled international stakeholders including the IMF, World Bank, the United Nations and the European Commission. He specializes in pubic financial & fiscal management, private sector development and natural resource & hydrocarbon energy management. Eugene recently held the position of the senior economist with the Ministry for Economic Development Planning and Statistics in Qatar and was seconded into a catalogue of principal roles in the Qatari Government – spanning a seven-year period, they include: the Ministry of Economy and Commerce (formerly Business & Trade), the Ministry of Finance, Qatar Central Bank, Enterprise Qatar (Qatar Development Bank), and the General Secretariat for Development Planning. Eugene hold a Masters Degree in Economic Science from University College Dublin and also qualified in advanced computer science and statistics during that tenure. Eugene's résumé is rich in international practice with assignments compassing the GCC, MENA, Bangladesh, Singapore, Eastern Europe, the United States, Canada, the United Kingdom and Ireland.
CONTACT EUGENE
Email: ecmcquaid@yahoo.co.uk
skype: ecmcquaid