Creditinfo Group launches Creditinfo Academy website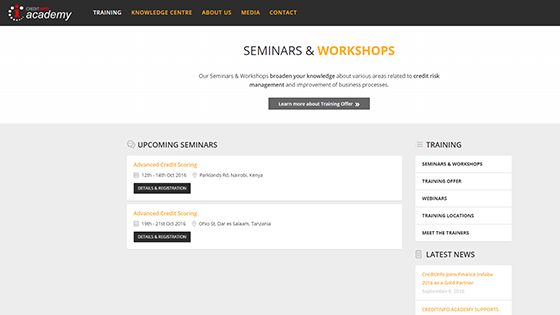 Creditinfo Academy, part of Creditinfo Group, is a skills development and training provider that delivers generic and customized training services. Our focus, at Creditinfo Academy, is to provide training for clients wanting to develop their skills to improve operational efficiency and overall business performance; as well as train consumers and assist public sector in their quest for financial inclusion.
Creditinfo Academy was established with the purpose to assist the development of sustainable financial and credit management, assisting businesses with increasing their efficiency through innovative technologies. The objective is to offer diversified range of training which will help organizations as well as customers to enhance their financial responsibility. Creditinfo Academy's mission is to stipulate responsible lending practices through the involvement of financial literacy programs. We believe that Creditinfo Academy, through its courses, can influence the development towards more sustainable and financial inclusive economy. In order to be closer to our clients, partners and past and future students, we are launching the Creditinfo Academy website: www.creditinfoacademy.com, where you can explore more about us and our training offering.
We have identified that one of the challenges facing financial institutions, especially FinTech companies, is the fast pace of technological developments and FinTech innovations, which happens around the globe. The issue here is to ensure that the staff, managing those new products and digitalized lending processes, possess a relevant set of skills. The conservative approach towards credit control and monitoring won't work in this case.
Credit officers are no longer dealing with Excel spreadsheets and direct interviews with clients. They have to be adept with new technologies, understand the latest products, and understand the trends, as well as the new risks which come with it. This is why we established Creditinfo Academy – to assist those professionals with such challenges. Credit Risk Management is not only about analyzing credit applications, and overlooking loan portfolios, it starts with acquiring the client through various new means, managing and monitoring to the follow ups.
We offer various seminars, for example, "Improving your Credit Risk Management practices"; "Fraud Risk Management " – a series of workshops and "Advanced Credit Scoring" to mention just a few. In October, we will conduct a three-day specialized seminar on Advanced Credit Scoring – one will be held in Nairobi 12-14 October and the second one, in Dar es Salaam 19-21 October 2016.
More info can be found on our website www.creditinfoacademy.com