Instant hit by Creditinfo: Instant Decision Module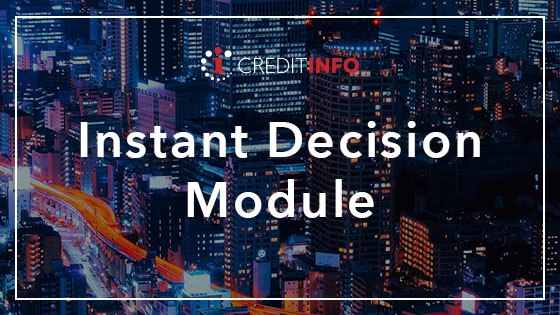 Instant Hit. This is what the newest solution by Creditinfo is. Introducing the Instant Decision Module, a novelty that walks the talk and permits accurate lending decisions in an instant. It is a SAAS solution dedicated to lenders, including digital and mobile lenders from the financial and non-financial sectors, to enable automated accurate credit decisioning. The Instant Decision Module opens more room for more opportunities for established lenders, as it provides automated decision-making in existing institutions and products with really simple integration and minimum IT effort.
"Rare were the times when Creditinfo's solutions were welcomed by the market so well and adopted in an instant. The product wasn't even being pre-announced!" – says Paul Randall, Executive Director at Creditinfo Group. He adds that removing barriers to finance and doing this in an instant is what Creditinfo aims for, therefore is happy to see such a positive market response, which encourages Creditinfo to innovate further.
One of the key features making the Instant Decision Module unique is Creditinfo's ability to combine credit bureau data with customer and alternative data, such as mobile wallet activity and customer history. All without complex integration and available online, practically on the spot. In addition to that, Creditinfo has the reputation and brings the benefit of integrating specific know-how in credit risk management and in-depth expertise in decision technology – a synergy that Instant Decision Module is resulting from.
"Our global team worked on this solution for 800 hours, so that our clients could make decisions in one second. The number of credit decisions that can be done in a minute, as we see it now, online, is definitely rewarding. We built the solution based on our global experience and to address known customers' fears and pain points. It is expected to change the way of automated decision-making from Jamaica to Indonesia, without changing any of the existing IT infrastructure", comments Dmitry Batygin, Senior Product Manager at Creditinfo Group.
Contact Dmitry Batygin for more information about the product or a live demo.