PRESS RELEASE: Know your credit score to make better informed financial decisions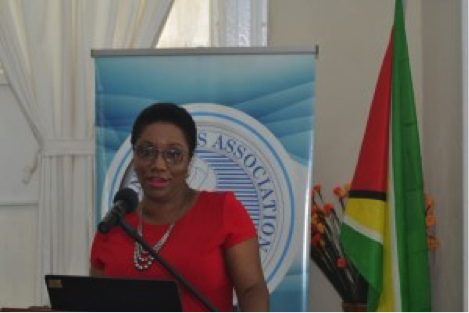 PRESS RELEASE
DPI, Guyana, Thursday, November 22, 2018
– all lending agencies are mandated by law to share all credit data with the credit bureau
– "a lender cannot pull your credit report without your consent"
– know your credit score – it prevents over-indebtedness and encourages responsible borrowing and brings stability to the financial sector
– credit bureau was established in 2013 and operates under the Credit Report Act of 2010 and the Credit Reporting [Amendment] Act of 2016
Chief Executive Officer of Creditinfo, Judy Semple-Joseph says the credit bureau, popularly known as Creditinfo (Guyana) Incorporated, is here to help citizens make informed financial decisions rather than to work against anyone. Semple-Joseph yesterday made this declaration during the Guyana Press Association's Lunchtime Lecture at Moray House, Georgetown.
The CEO said that many people are not aware of the works of Creditinfo and would find themselves blaming the credit agency for them being denied a loan.
She reminded that all lending agencies are mandated by law to share all credit data with the credit bureau. Semple-Joseph emphasised that whatever information Creditinfo has on an individual is based on their financial behaviour over a period of time.
However, the CEO stressed that "a lender cannot pull your credit report without your consent and this is one of the key things we want to assure persons of. Yes, your information is in the database, but we would not know you unless you present your I.D. and give that lender permission, they cannot pull your credit report."
Nevertheless, she stated that "you must have good quality data, and this has been an issue in our case. I think the advantage that we would have brought to this market in terms of data is that while there was information, it was not set up in a way that would have allowed for better decision-making and if we can commend ourselves on one thing, is that we would have been able to support our lenders in improving the quality of data that they have. Data is key, data is critical, data is like the cash flow of our institution."
According to Semple-Joseph, credit reports on the history of an individual's credit is accessible once requested and since the first credit report is free within a 12 month period "there is no excuse for individuals to not come and get their credit report… We need to underscore that fact that we need to pay attention, things are happening."
Some of the advantages of knowing your credit score, according to the CEO, are having faster and broader access to credit, it prevents over-indebtedness and encourages responsible borrowing and brings stability to the financial sector.
The credit bureau was established in 2013 and operates under the Credit Report Act of 2010 and the Credit Reporting [Amendment] Act of 2016. It is an independent organisation that collects, stores and organises credit information about consumers and businesses.
Information is sourced and collected from lenders such as banks, credit unions and microfinance organisations, as well as providers of various alternative types of credit such as hire purchase companies, telecommunication companies and utility companies such as Guyana Water Inc. and Guyana Power and Light Company.
Isaiah Braithwaite.