Credit Information Bureau of Sri Lanka strengthens financial infrastructure with Creditinfo Group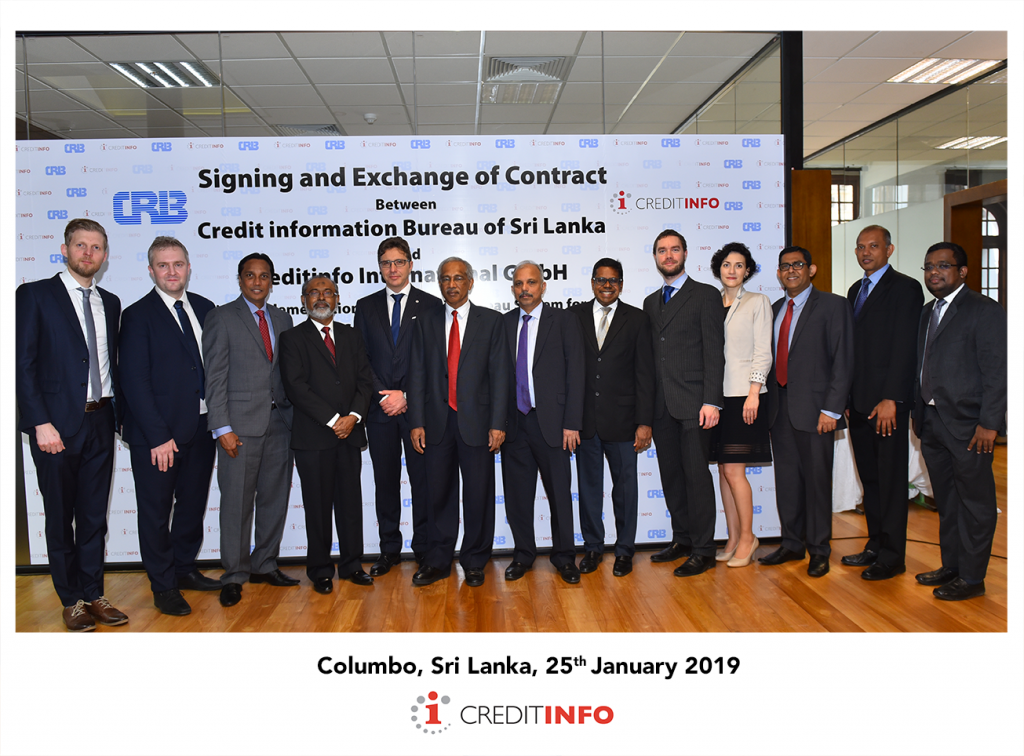 PRESS RELEASE
Credit Information Bureau of Sri Lanka (CRIB) and CreditInfo enter into strategic partnership to enhance its credit bureau services in the country.
COLUMBO, SRI LANKA, 25th January 2019 – Creditinfo Group, a leading provider of global credit information and fintech services, announced that it has entered into a strategic partnership with the Credit Information Bureau of Sri Lanka (CRIB) to provide and support a modern and enhanced credit bureau, specifically developed to strengthen the nation's financial infrastructure.
Following an official tender process, Creditinfo was selected to provide CRIB with the technical software required to strengthen the country's existing financial infrastructure, in line with changing trends and regulation within the global financial services sector. This includes the implementation of enhanced credit bureau solutions, automated risk management, and new credit scoring methods to develop an agile financial infrastructure.
The strategic partnership will also see Creditinfo collaborate with CRIB to offer world-class support, education, knowledge and resources to the country's private and state-owned banks, and wider financial services providers. Alongside this knowledge sharing, the modernised and agile infrastructure, delivered by Creditinfo's technical software, will be underpinned by new value-added services to provide the Sri Lankan financial services sector with visibility from the moment a loan application is made, right through to the final repayment.
The benefits of the partnership extend beyond the country's financial institutions. The new credit bureau system will also provide businesses outside of the financial services sector, such as telecommunications and utilities with access to consumer credit and risk information; allowing businesses to identify which customers are credit-worthy, and those which may be likely to default on any credit payment plan. Ultimately, the partnership between CRIB and Creditinfo will enhance banking in Sri Lanka, support the growth of the local economy and raise the country's global economic rating, creating new business opportunities within the global marketplace.
"Creditinfo's advanced credit bureau solution is unique to the market and proven in its ability to help countries adapt their financial infrastructure in line with changes in the wider industry," said Nandi Anthony, CEO, CRIB. "We believe this partnership will also support our objective of increasing financial inclusion and economic growth in our country. We look forward to starting the implementation and effecting long-term change, to the benefit of all citizens."
"The strategic partnership between Creditinfo Group and CRIB creates a combined industry knowledge of almost half a century," commented Stefano Stoppani, CEO, Creditinfo Group. "Through this strategic partnership, we are committed to supporting the country in transforming its financial infrastructure through the innovative use of technology. We're confident and committed to supporting CRIB in achieving its financial inclusion goals and commend its forward-thinking approach to an ever-changing sector."
About Creditinfo
Established in 1997 and headquartered in Reykjavík, Iceland, Creditinfo is a provider of credit information and risk management solutions worldwide. As one of the fastest growing companies in its field, Creditinfo facilitates access to finance, through intelligent information, software and analytics solutions.
With more than 33 credit bureaus running today, Creditinfo has the largest global presence in the field of credit risk management, with a significantly greater footprint than competitors. For decades it has provided business information, risk management and credit bureau solutions to some of the largest, lenders, governments and central banks globally – all with the aim of increasing financial inclusion and generating economic growth by allowing credit access for SMEs and individuals.
For more information, please visit www.creditinfo.com
About Credit Information Bureau of Sri Lanka
Credit Information Bureau of Sri Lanka (CRIB) established in 1990 was the first Credit Bureau in South Asia. CRIB, a full-file credit bureau which provides both positive and negative credit information since its inception to all regulated member lending institutions, covers 40% of the country's adult population in its data base presently. CRIB is a private-public partnership and a an independent statutory body by law, which issues more than 40,000 credit reports to its membership on daily basis.
For more information, please visit www.crib.lk
Media Contacts:
Suraj Mashru
Babel PR for Creditinfo Group Suraj@Babelpr.com
+44 (0)207 199 3977