Top trends that will shape banking in 2022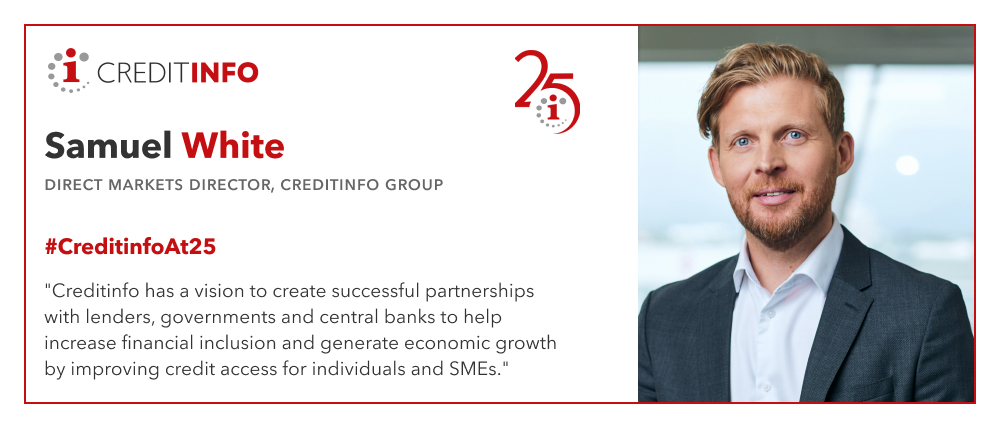 We sat down with our Direct Markets Director at Creditinfo Group, Samuel White, to discuss some of the key trends that will shape banking in the MENA and Asia region. These were some of his thoughts:
New market players from non-traditional lenders such as telco or payment providers
We are seeing an increasingly number of non-banks entering the markets. There has been a clear sign that these companies have a wealth of internal data through their platforms and usually e-wallet transactions. It has been proven that this data is extremely valuable during the risk assessment process.
SME finance
SMEs are playing an instrumental role in local economies but still struggle to receive the access to banking products in a timely fashion. In the region every country is looking at how better to serve these customers and provide them with the solutions they require.
Digital Banks, Neo Banks, Born Digital Banks
Many of the traditional lenders are based on legacy technologies and we have seen an accelerated approach to digital transformation over the last 2 years. We have also seen some banks create new digital arms to their organization setup with new technology away from legacy portfolios. These Born Digital Banks are increasing in the region, and anybody left behind can expect to lose some market share in the future.
BNPL
Buy Now Pay Later (or as some are calling it Save now pay later) is not a new concept but there is no doubt it is growing with popularity. The demand for flexible payment offerings is at an all-time high. Typically, these smaller value loans are based on impulse buying so lenders must make sure they have the process in place to offer instant decisioning.
We also asked him how Creditinfo is playing a role in shaping these trends:
How is Creditinfo helping banks lead in the digital era? 
At Creditinfo we are focusing on helping banks streamline and improve the credit process across the full credit lifecycle, from origination through scoring, risk, decisioning and portfolio management. We are offering enhanced digital channels to meet the customer demands and reach the underserved or unbanked segments. We recognize it has become more accessible for individuals and SMEs to make use of digital financial services and by working with Banks we can develop software and applications to deliver services that are more transparent and automated.
What is Creditinfo's business model and how do you see this model shaping the banking industry?
Creditinfo is a provider of credit information and risk management solutions worldwide, one of our primary goals is to help facilitate access to finance. We have built credit bureaus globally and across different markets, giving us key insights and knowledge into best practices. Creditinfo has a vision to create successful partnerships with lenders, governments, central banks to help increase financial inclusion and generate economic growth by allowing credit access for individuals and SMEs.
Creditinfo wants to continue building products and working with partners to add further solutions and data to enable lenders to further lend in a responsible fashion. Lenders are shifting their attitude towards FinTechs to keep pace with change and remain competitive. There is a huge variety of FinTech offerings available today using wide range of data that's delivered through applications to provide lending decisions in only a few seconds.