Paul Randall marks 15 years at Creditinfo Group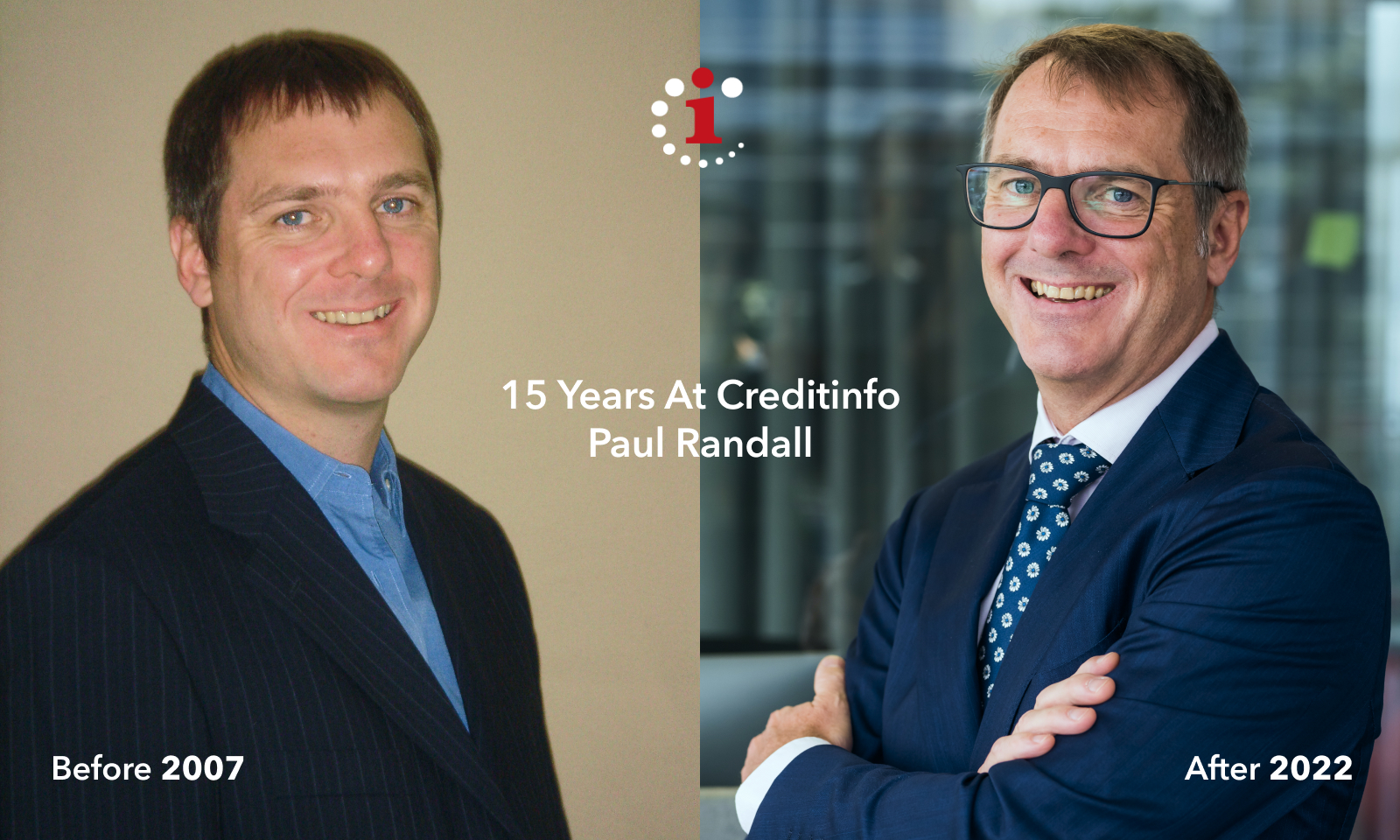 We recently sat down with our CEO, Paul Randall and asked him 15 questions to mark his 15 years at Creditinfo Group. Get to know a little more about Paul as he celebrates this milestone:
Describe yourself in 3 words? Competitive. Curious. Optimistic.
What was your first job? JD Williams in Manchester -a clothing retail outlet that sold clothes on credit.
How many countries have you worked in? Over 50 countries and counting.
How long have you worked in the credit industry? Over 35 years; not only just the credit industry, but also in telcos, retail, and utilities. 
What has been your most shocking discovery working in this industry so far? I think some of the practices on collections. I feel that collections processes need to be more humane. There is also the fact that there are additional costs to customers particularly those who are borrowing short term. There is a place for short term lending, which has a higher cost than low risk lending, however this needs to be done fairly.  
What has been your highest moment working at Creditinfo Group? Meetings with central banks particularly in West Africa in Senegal. The BCEAO is very prestigious organization, which is very well respected, and for us to demonstrate that we could provide meaningful services to that region, was very important. Other great moments were winning major tenders with organizations such as Pefindo and Safaricom. 
Out of all the markets we are present in, which one intrigues you the most and why? So many markets intrigue me in different ways. I think the variety is what intrigues me the most – working from SME's, business lending, all the way to trade credit, and everything in between.
Working at Creditinfo opens doors to meeting a lot of personalities to look up to. Who have you met so far that has influenced your career? There are a number of personalities in the in industry that I've met and worked with. I have been lucky to have had a lot of good leaders. I have also learnt from team members, that gave me important feedback. When I was in banking, I had a risk management director Caroline Hendra, who was really inspiring as she went into a very male dominated banking environment in the 90's, and through her intelligence, she transformed the business. Graham Platts, was also a big influence in terms of understanding of risk management and credit scoring. When I was at Experian, Mark Gaudart made it clear that it's not only about having knowledge, but also how you communicate that information that is critical to ensuring that the message is passed. I have also learnt a lot from Reynir Grétarsson on being entrepreneurial, taking risks and having emotional intelligence when it comes to negotiation.
How do you as Paul maintain the equilibrium between work and life? I spend my spare time on sporting activities (practicing and watching). I also make time for my family and friends, and this to me brings balance. 
As our Group CEO, how can you say this role has transformed you? I've learned a lot about business; understanding the appropriated strategy and how to make that happen; dynamics of people within the business and I have also been so impressed by the quality of the teams that we have and how hard they work.
What has been your greatest motivation? Seeing the success of team members will always continue to motivate me. Witnessing their growth in different stages is always something that pushes me as well so that we all excel in the end.
What are you currently reading? True History of the Kelly Gang – Winner 2001 Man Booker Prize (UK).
What is your morning routine? Training in the morning – through zoom videos while overlooking the sea at 7:00 o'clock in the morning as the sun is rising is quite fantastic!
What fun fact can you share that we don't know about Paul Randall? As you can see from the countries I have been in, I am curious and always learning about new cultures and trying out different cuisines (anything with seafood always a favorite!)
Parting shot? Give us a quote in Paul's words. I like the phrase – "It is better to have fought and lost than to have never fought at all." But I like to win!