Lithuanian debts increased by €6.8 million since the beginning of 2023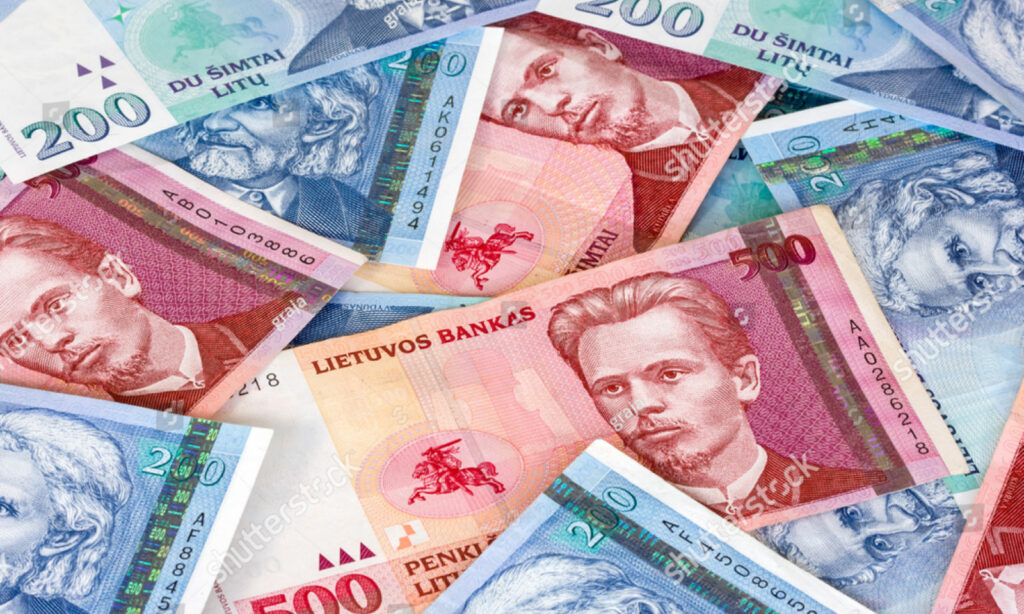 According to Creditinfo Lithuania's latest analysis, Lithuanian debts have increased by €6.8 million since the beginning of the year, reaching a total of €364.8 million.
Of this amount, male's debts stand at €261.8 million, while female's debts are at €103 million. This is almost €6.8 million more than at the beginning of this year (€358 million). The total number of borrowers has also risen by 5,000 in the first quarter of this year, with the current total standing at almost 201,000.
Creditinfo Lithuania has recorded almost 201,000 debtors in its systems for March, with a total of 235,300 individuals having 235,300 debts in Lithuania.
After a more detailed examination of the debtor data, it was found that over 129,000 males and 72,000 females are currently in debt, making up 64% and 36% of all debtors respectively. Additionally, 32,500 males and almost 20,000 females have multiple debts, with 25.3% of male debtors and 27.7% of female debtors holding two or more debts.
On average, males owe €2,029, which is 30% more than the average debt owed by females (€1,435).  This trend, coupled with the higher number of male debtors, results in men holding 78% of the total debt amount, while women hold only 22%.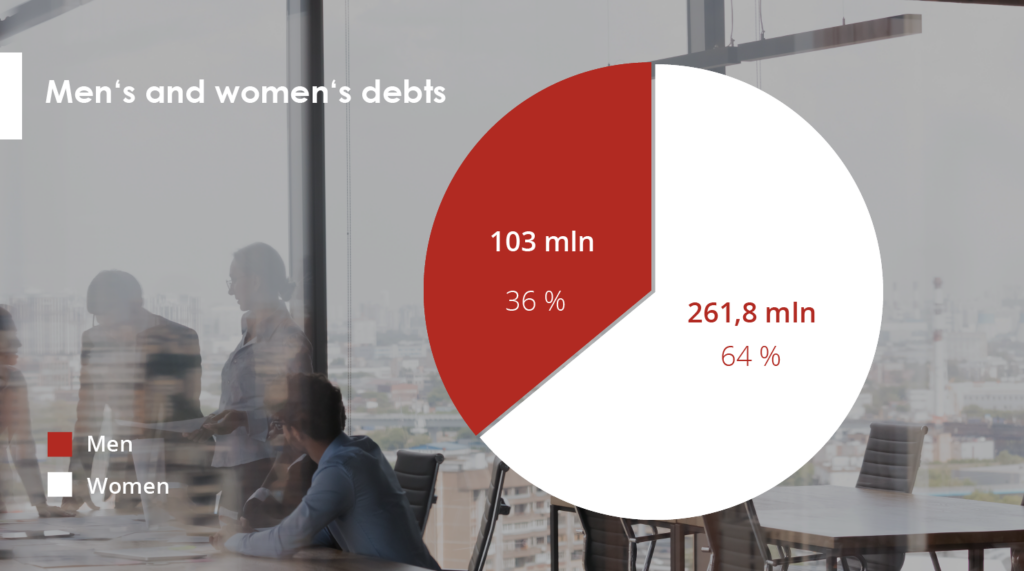 During the first quarter, an additional 5,000 individuals in Lithuania fell into debt. 
In March, the total number of individuals in debt amounted to 201,000, marking an increase of 5,000 from January's 196,000. The total value of debt owed by all debtors also rose from €358 million to €364.8 million, with the total number of debts recorded in the credit bureau system increasing by 5,300. The largest number of new debts to households registered in the first quarter of this year, after debts to the financial sector, were for utilities and energy, with a total of 1,518 debts (12%).
"The analysis suggests that the majority of new debts recorded this year can be attributed to the energy and heat price crisis. Rising fuel costs have resulted in increased indebtedness, with people seeking short-term financing in order to balance consumption and expenses," explains Aurimas Kačinskas, the Head of Creditinfo Lithuania. "Not everyone has had sufficient time to alter their financial habits, which has resulted in the growing number and value of debts."
Men aged between 35 and 45 are considered to be the most high-risk debtors
Despite fluctuations in the number of borrowers and their levels of indebtedness, the typical borrower profile has remained consistent in recent years. Men aged 35-45 are the riskiest debtors, with debts amounting to €75 million, accounting for almost 29% of the total amount owed by men.  The second riskiest group is men aged 45-55, with €61 million in debt, representing 23.3% of the total amount owed by men.  In third place are men aged 25-35, who hold €55 million in debt, accounting for 21% of the total amount owed by men.  Men aged 55-65 hold €43 million in debt, while those over 65 hold €17 million.  Men under 25 hold the lowest amount of debt at almost €15 million.
Among female debtors, the under-25 age group has the lowest amount of debt, while other age groups have the following distribution: €29 million (45-55), €26 million (35-45), €20 million (55-65), and €17 million each (25-35 and over 65).
According to Mr Kačinskas, it is important for citizens to assume their financial obligations responsibly and meet them on time to maintain a positive credit history, which determines their access to financial services, loans, credit cards and payment provisions.